When you're feeling like Demna!
Damna Gvasalia has been tinkering with many interesting ideas as of late. People have been really captivated by the blue and yellow Ikea inspired tote bag. Well, it totally hits the mark complying with 1/2 of the bag trend sweeping the world. Those in the fashion set have been seen rocking the rather ginormous bag in a very purposefully-clumsy way or in complete contrast finishing their outfits with impractically credit card sized bags that are more for affect than usability (I think many women would agree that they'd rather opt for the former.)
Ever since Demna came to helm Balenciaga the brand has systematically broadened it's collaborative efforts, made fashionable political statements (i.e.: that Bernie swag) and has sought inspiration from the most unlikely of places. This bag goes for (a ridiculous) $2,145. Honestly, go to Ikea one time and cop the OG for $.99 cents. Even if you bought the Balenciaga copycat.. from far away I think people would assume its the IKEA FRAKTA bag which is exactly right.
There have been many quite comical responses to this IKEA trend. Check out a few of my favorites below and leave a comment telling us how you would deconstruct this hot item.
Pleasures and Chinatown Market responded to this polarizing accessory by means of collaboration turning the $.99 cent bag into a cap that they are now selling for $38.
Chinese designer Zhijun Wang famed for his sneaker masks has taken it a step further making a case for this IKEA bag mask (the coolest iteration thus far.)
The Instagram caption for this post is "Feeling like Demna."
The hypest wallet ever!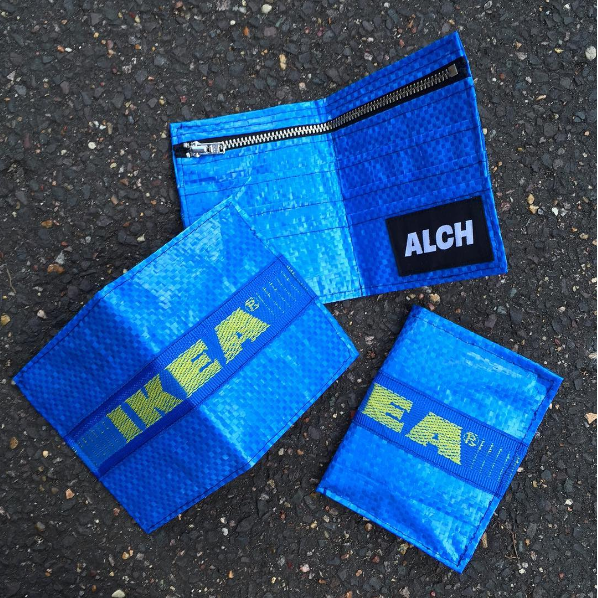 Really…
Instagram images via Google.com
P.s. There's also an IKEA strap choker floating around out there slated to be the hottest item this summer. Someone on youtube make a DIY and show us how to do it so we don't have to pay Balenciaga thousands of dollars to whip us up a $.99 bag.