Bridal Fashion week breezed through New York this past weekend with an Ivory air of elegance. A host of incredible talent showed their wears for next years spring summer collection. I began in The Edition Hotel with Justin Alexander Spring/Summer 2018 collection. Everything was decidedly form fitting from the gowns to the accessories with few exceptions. There seemed to be some ballet-esque vibes in the form of ribbon wrapped around the arm and pony tails. Clearly derived from the ballerina frenzy taking over the city right now (I'd just like to add that I owned those Fabletics ballerina leggings just weeks after Kate Hudson launched her company.) #aheadofthecurve  The large hats were a glamorous addition that were more Bridgitte Bardot than Audrey Hepburn and were styled in a way that brought me 2 weeks into the future to Louisville to the Kentucky derby where the ladies do that hide one eye thing (probably because someone's husband was looking at someone's wife.) A few things that peaked my interest were the bridal pockets (very thoughtful if I may say so.) Justin Alexander made a great case for bridal black but didn't fully commit, opting only to include the color in chokers (yes there wedding appropriate now), belts and the floppy hats.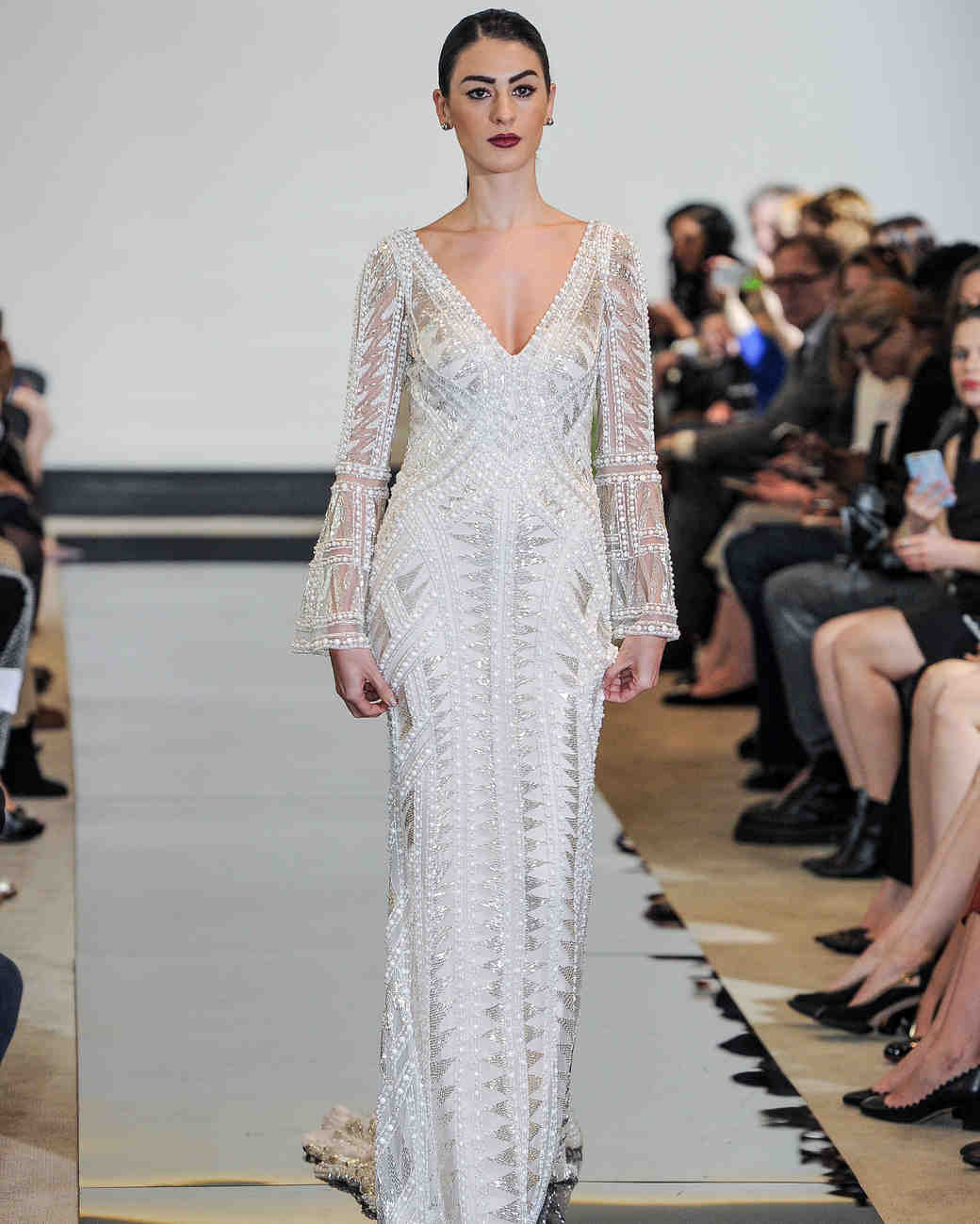 Ines di Santo showed her unique collection at the IAC building on Friday making a complete painstaking departure from her Fall 2017 collection. The latter gave an ethereal, whimsical vibe while her current collection came complete with clean lines and absolutely gorgeous fabrics. But the fall collection is by all measures covetable. Watching the show I could imagine walking down the aisle in almost every look. There's an apparent youthful freshness that just isn't there in the stark ivories of Spring/Summer 18. I was hoping to see an updated version of fall maintaining the beautiful embroidery shades of pastel but what we received was lackluster in comparison. Something that was interesting though was the buttons down the spine (the classy, non permanent bridal equivalent to a spinal tattoo) that did carry over from the afore mentioned collection. The accessories were placed in the hair which lifted them creating space between the gown and hair. They didn't crowd the neck in favor of elongation which was thoughtful. The hair itself was braided into these intricate crown like styles which surely gave the audience hair envy but when they were left down it reminded me of Fiona from Shrek that very old world, medieval style (which is fine.. if you're the princess locked in the tower of a 90's fairytale.)
Ines di Santo, Bridal Spring 2018, New York, April 2017
It was absolutely blooming in the showroom at Viktor and Rolf on Saturday. As I was shown around the room the dresses seemed to be in descending order of amount of tulle used, I was quickly told that more could always be added upon request. Every gown had a story of it's own while maintaining some elements from the previous collection. The bridal bow was a mainstay that evolved in a most fascinating way. One of the gowns featured a romantic column of micro bows that descended the spine while others exaggerated the shape into something less subtle. Both equally wedding worthy.
The precise sculpting of the silouhette was reborn a la bridal for spring/summer 2018, the asymmetrical placement of tulle is brilliant and varied in its arrangement from garment to garment. There were even a few shorter dresses for the (totally valid,) less exuberant bride and they held there own. The T-shirt dress was carefully adorned and didn't fall into the trap of being boxy and boring (the two b's no bride wants hear) although it wasn't my favorite look I could see many brides opting for this rather chic alternative. The embroidery on many of the gowns were serving V. 21st century bridal couture. On many occasions I find myself wondering about a beguiling new material but in most cases not enough to begin a whole crusade to learn about a fabric technique. In the Viktor & Rolf showroom they had something that truly took my breath away (BTW It's way to difficult to be cool in a bridal showroom.) According to the fabric dictionary "Flocked A raised, often velveteen design added onto the surface of a fabric. Flocking adds interest and texture to fabric, and is most often featured on apparel and home décor fabrics." This is one of those things you have to see and feel for yourself. It's absolutely mesmerizing and was used in a number of the gowns. A truly brave bridal trend was the cape. I saw this on every runway way be it removable or fixed, this too is something best judged individually. Personally, I love something a little avant garde and flowy so the cape was a sweet discovery.
Photos by Kristen Wiltshire
Overall, my bridal fashion week experience was fantastically stimulating, with varying degrees of success. If their are any brides out there looking for a a few names to add to your gown hunt add these beginning with Viktor and Rolf and who knows you may walk in to find a cappuccino waiting for you and find the gown of all gowns. I certainly thought I did and yet there's no ring on this finger.
XOXO
black
Bridal
Bridal Fashion Week
Bride
cape
Designer
embroidery
Fashion
Flowers
garments
Ines di santo
ivory
justin alexander
love
New York
NY
Spring
summer
Viktor and Rolf
Wedding
white