Maria Grazia Chiuri Dior's first female creative director showed an unapologetically bohemian collection for her sophomore season at the helm of Dior. Savage was the theme of her presentation as was flat shoes (literally bringing us down to earth), chauffered shuttles and hot air balloons emblazoned with Thursdays' theme. The white tents and beige festival chick furnishings were a very #Diorchella approach. Perhaps the most provocative element for the press was the location she chose to show it. In a phone interview with The Times "She said the company's executives had told her they wanted to hold the show in Los Angeles — why, she was not sure. But odds are, I would guess, it was because they were actually supposed to have a cruise show in Los Angeles two years ago, under the previous artistic director Raf Simons, but it was switched unexpectedly to the south of France, and this was the rain check. So from there she had thought of the desert, because "most people, when they think of L.A., think of Hollywood and celebrities, but there is another element to this city, which is the way you live in contact with the outdoors." I do have to say for a desert showcase there weren't many models that represented the colors found in any desert..this is always an issue primarily with old, large fashion maison's. The shows are about the clothes and drumming up excitement around a season. Here the most obvious way to have the garments stand out is to cast desert hued beauties that maybe blend in with the background so the focus truly is the clothes (just saying).
Her exhibit was specifically located at the Open Space Preserve in the Santa Monica mountains. Taking Dior west (not the only designer to do so, Calvin Klein also did a take on western fashion this year) and presenting a collection of very Giorgia O'keefe wearable garments that spoke to women in nature and the power of femininity. Think embroidery, flowy skirts, folky fringe, suede and leather. Th accessories were exceptionally captivating (Still waiting for someone to accomplish this bohemian chic through an eco friendly vegan sense without sacrificing quality.) She also was clearly heavily inspired by the desert and it's vast landscape, siting the Lascaux caves (in France) on a number of the skirts. Speaking of inspiration…next years #coachellainspiration below.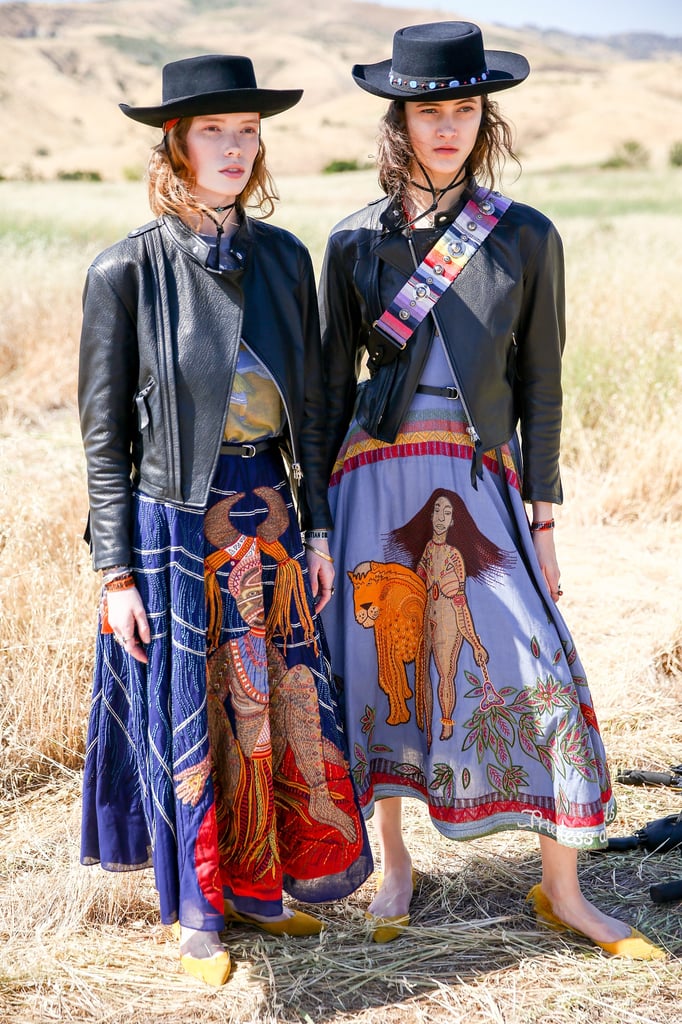 The entire showcase concluded with a performance by (the woman we all secretly/not so secretly want to be) Solange.
P.s. If anyone gets that email when the collection drops I wouldn't mind some sauvage swag…(that hand painted hat with the person siting in lotus!) I'll be chilling out in the comments section for a little bit so feel free to drop us a line I'd love to chat Dior.
XOXO
2018
Boho
bohochic
desert
Dior
Fashion
Featured
leather
Maria Grazia
sauvage
western